Ezcad can now produce partial denture frameworks from your iiTero®, TRIOS® and any STL output file.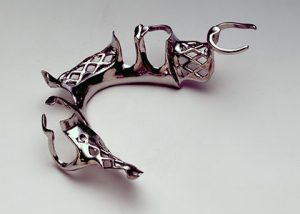 Exceptional fit, light weight, and polished to a mirror finish! Our RPD Cast Metal Frameworks are made with an uncompromised attention to detail using a combination of quality materials and precise techniques, resulting in a precise, comfortable fit.
The largest single advantage that cast metal framework partial dentures is that sore spots are almost never an issue. Patients who exhibit the symptoms of TMJ, or who are known bruxers are much better off with cast metal partials than with flexible framework partials.
When your patient desires strength with vertical stability, but with the aesthetics of a flexible partial, Ezcad's hybrid partial is an excellent choice. Our hybrid partial combines a cobalt-chrome cast metal subframe with flexible clasps or saddles. Clasps can be effectively hidden by crafting them from our clear or tissue-shaded TCS® thermoplastic materials. Now that's a winning combination!
Options:
TCS® Clasps
Cast Metal Partial with TCS Flexible Clasps. Chrome cobalt cast metal framework with TCS flexible buccal clasps. Perfect solution for longevity and esthetics. Combining the strength and rigidity of traditional metal RPD's, with the esthetics and durability of TCS flexible partials.
Acrylic Base Cast Mesh
Cast clasps with rests are tied together internally by a cast framework which is covered externally with pink acrylic. This tooth/tissue borne restoration is easily maintained or added to without the need for welding.
Facings/Tube Teeth/Metal Pontics
The addition of facings, tube teeth, or metal pontics to a cast partial framework is indicated when there is inadequate clearance for acrylic attachments. Metal backings, boxings and pontics, minimize premature wear and breakage generally associated with a close or "hard" bite restoration. (Shade is required prior to casting of frame)
ADA Insurance Codes
D5213 – Maxillary partial denture – cast metal framework with resin denture bases (including any conventional clasps, rests and teeth)
D5214 – Mandibular partial denture – cast metal framework with resin denture bases (including any conventional clasps, rests and teeth)