Ezcad can now produce TCS® flexible partial dentures from your iiTero®, TRIOS® and any STL output file.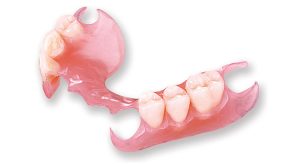 Widely recognized for comfort and flexibility, TCS® partials deliver the high-quality function and esthetics patients want from a tooth replacement solution. This stable solution in removable appliances is a favorite among patients when compared with traditional metal-based options.
Advantages
Lightweight and Comfortable
TCS resins have properties that allow partials to be fabricated very thin without compromising durability, making them very comfortable for the patient.
Aesthetics
TCS resins are unnoticeable in the patient's mouth, manufactured to blend naturally with the surrounding tissue and gums.
Indications
Flexible partial dentures, suited for clasp-less types of flippers that utilizes lingual undercuts
TCS/Cast Partial combo cases
– Flexible Base and clasps coupled with the strength of a metal framework
– Tooth born partial rather than tissue born partial
– Cast chrome framework fabricated by OA technicians and made in the USA
Unilateral partials
Temporary healing appliance for implant cases and for patients with largely edentulous spaces
Patients with high aesthetic demands on a budget, concerns over metal restorations, allergies to monomers and nickel, oral cancer, and cleft palates.
Contraindications
Severe buccal inclination
Less than 5mm vertical space (unless using metal backing/facing, especially on isolated anterior teeth)
Collapsed bites
Deep bites where upper anterior cover lower anteriors
Full denture
Lifetime Warranty Against BreakageExtensive testing and clinical history has validated that TCS Unbreakable Partials will not break under proper use.
TCS, Inc. warrants TCS Unbreakable against breakage or fracture due to defects in the material.
The warranty does not apply to neglect and/or abuse of the restoration.
The warranty does not apply to artificial teeth, nor the bond between the artificial teeth and the TCS Unbreakable material.
Dental Insurance Codes
D5225 – Maxillary Partial Denture – flexible base including any clasps, rests, and teeth
D5226 – Mandibular Partial Denture – flexible base included