Ezcad provides you with many choices for implant abutments, beginning with generic or authentic components. Authentic components are used in our premium implant line and generic components are used in our standard line. The choice Is yours!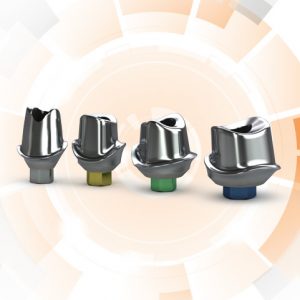 We offer stock implant abutments, custom hybrid abutments, custom milled titanium abutments and zirconia abutments matched with a complete line of restorative options to meet your patient's needs. We are trained and capable in all major implant systems including NobelProcera™, ZIMMER BIOMET 3i™ BioHorizons® and Straumann® Dentsply Sirona™. We also see many cases from Cortex™, Hi-Tec™, and MIS® implant systems.
Our flat rate abutment & crown price packaging ensures accurate pricing for predictable profitability with every case. First choose Authentic or Generic components, then simply prescribe your specific abutment type and crown combination and we'll return each case to you with our predictable flat rate pricing. Our complete price packages include soft tissue model, abutment and final screw, abutment placement jig as needed, along with your restoration of choice. Analogs are not included the package price as many of our clients supply them with each case.
ADA Insurance Codes
D6056 Prefabricated abutment – A connection to an implant that is a manufactured component usually made of machined high noble metal, titanium, titanium alloy or ceramic. Modification of a prefabricated abutment may be necessary, and is accomplished by altering its shape using dental burs/diamonds.
D6057 Custom abutment – A connection to an implant that is a fabricated component, usually by a laboratory, specific for an individual application. A custom abutment is typically fabricated using a casting process and usually is made of noble or high noble metal. A "UCLA" abutment is an example of this type abutment.