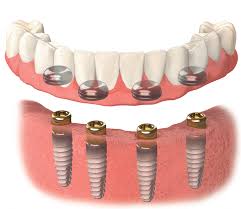 Attachment retained implant overdentures utilize freestanding stud type attachments to provide additional retention and stability. Locator®(Stud Retained) Overdentures are ideal for patients seeking a more secure prosthesis that enhance retention, function, and speech. Attachments such as Locator®, ERA®, and O-Ring ball attachments and the most popular systems used for Implant overdentures. Durability and retention are further enhanced by adding a Co/Cr substructure to every overdenture that we create. The final results will be greater patient satisfaction and require less doctor chair time for post treatment adjustments.
Key Features

Complete solution in one package: Implant supported bar and denture complete.Bars that are precision milled on a 5 axis CMC machine, design for accurate passive fit. Overdenture that is reinforced with Co/Cr
Indications for Use
Bar-retained prosthesis needs at least 15 mm to 17 mm of crown height space (depends on the type of attachment).
Minimum Height of 8 mm from the bar/attachment to the incisal edge.
Contraindications
If the distance from the implant platform to the occlusal table is less than 15 mm, then the prosthetic material indicated is porcelain-fused-to-metal.
ADA Insurance Codes
D6114 Implant/Abutment Supported Fixed Denture for Edentulous Arch – Maxillary
D6115 Implant/Abutment Supported Fixed Denture for Edentulous Arch – Mandibular