Katana™ aesthetic zirconia is manufactured by one of the top porcelain companies in the world, Noritake. What is amazing about this aesthetic zirconia by Katana™ is the highly aesthetic results it can produce. The Katana™ zirconia disc is multi-layered which helps achieve a natural tooth appearance.
Katana™ zirconia has incredible strength (1200mpa), and still has a translucency like no other, getting impeccable results and has an advantage as a full contour zirconia crown versus a porcelain fused restoration. Katana™ contains an enamel layer, a first transition layer, a second transition layer, and finally a body layer. This leaves no issues while adjusting the crown, whereas a typical zirconia crown, that are dipped and stained, the shade could easily be removed while adjusting with a bur.
Katana Advantages
Strength: Zirconia crowns will outlast all other types of crown (this is the same material used in hip and knee replacement procedures).
Appearance: Crowns made with Katana Zirconia ML also happen to offer translucency solutions comparable to any other alternative on the market.
Minimal Invasiveness: Less preparation and impact to site means more of the original tooth is preserved.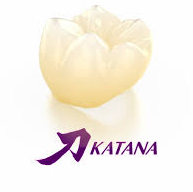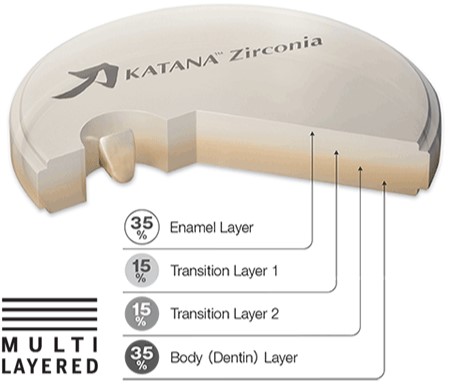 Cementing recommendations
Resin-reinforced glass ionomer cement: PANAVIA V5 (Kuraray Dental), RelyX (3M ESPE), Fuji Plus (GC America)
Resin cements for short or over-tapered preparations: Unicem (3M ESPE), Ceramir C & B (Doxa)
Prep requirements
Slight chamfer margin preferred for best result
A more conservative preparation than is required for e.max
1.5-mm of occlusal space is ideal
ADA Insurances Codes
D2740 Crown – Porcelain/Ceramic Substrate
D6245 Pontic Porcelain/Ceramic
D6740 Abutment Crown Porcelain/Ceramic